Prioritise Your Health and Your Family: Never Miss Residential Pest Control
At 711 Pest Control, we take pride in offering you dependable protective residential pest control options that can stop an issue before it becomes serious in addition to quick, safe, and complete pest treatment. Our knowledgeable team will walk you through the process and explain everything along the way after we have taken enough time to fully comprehend your needs and choose the ideal solution, so you will know precisely the needed actions and services to keep your family and residential places pest-proof and safe.
Reliable Treatment For Pests In Melbourne Homes
Getting a residential property free of pests can be difficult as well. So how do you handle them? If you're wondering the same thing, hiring our Melbourne pest control company is the simplest approach to get rid of insects, termites, pests and bugs from your property. To all homeowners, our team for Residential Pest Control offers secure pest control solutions. To get rid of pests like ants, bed bugs, cockroaches, fleas, flies, mites, mosquitoes, rodents, spiders, and much more, our skilled and expert pest controller makes sure to employ advanced methods and equipment.
Why Is A Professional Pest Control Service Necessary for Your Home?
Let's say you find a termite or an insect on your property. In that situation, it is crucial to call an exterminator right away because these bugs could harm your family or your property. Protecting your pets and kids from toxic materials used during the pest management procedure is another reason to engage specialists for pest treatment.
You can get guaranteed safe methods to safeguard your home against insect development because of decades of expertise in the pest management sector held by professionals. They employ safe pest control solutions. The foundation of their strategy is integrated pest management.
To handle any amount of pest issue, they provide the best residential pest control solutions. They use pest-specific treatments and chemicals that are safe for both people and pets. Your family can thus rest a little better knowing that your insect problem will be addressed with the best possible materials.
Look no further if you have a pest infestation or believe you might. We can ensure your safety and protection against various pests. We also wish to serve as a resource for our esteemed clients.
When Getting Residential Pest Control, What To Consider: We Do These All
Make sure that the process is simple if this is your first time scheduling professional pest treatment. Here is what to expect:
An Initial inspection: Our pest control expert will begin by thoroughly inspecting the home, and they'll ask you to identify any areas where you have seen pests. They will search for the bugs' homes and breeding grounds and determine whether there is a danger of pests depending on the immediate surroundings. They will inform you of their findings and suggest the best plan of treatment or prevention once this is finished.
Pest Control methods: Your solution may be restricted to particular locations where the pest breeds or resides, based on what we discovered during the inspection, or it may be a more extensive treatment applied to your entire house. Based on the problem and the environment, our experts employ a variety of strategies and chemicals.
Follow-up: In the end, we'll review everything we did and provide you with a report on the course of action. We will provide you with advice on how to avoid further infestations as well as any follow-up exams or treatments you might require. All of the Residential Pest Control specialists we have are friendly and willing to answer any queries you may have.
Why Choose Our Residential Pest Control Service In Melbourne?
Keep in mind that your house is your most valuable possession. So your Residential Pest Control responsibility should be in good hands like ours as we have more than decades of experience in the field.
In addition to treating the pest issue, our qualified pest professionals are trained to seek its underlying causes. Experts will spend the time to listen to your worries and offer suggestions and opinions on how to reduce pests on the property and in the surrounding area.
Professional, licensed pest services professionals do all treatments. To guarantee your pest problem is fully resolved, we always follow our standards and only use the best products that are safe for your children and pets.
We also offer same-day service around Melbourne.
All of our skilled and knowledgeable specialists use the utmost caution when doing treatments at your home.
Our service is reasonably priced and cost-effective.
For emergency service, we are available 24*7, even on public holidays.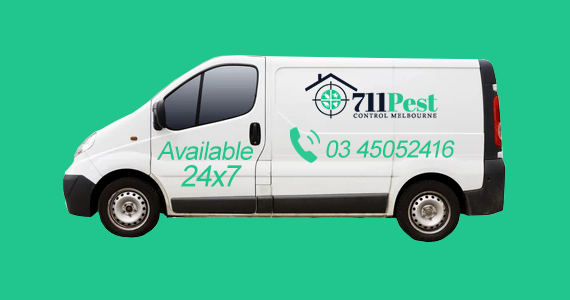 711 Pest Control Melbourne
Location:-
376-390 Collins Street,Melbourne 3000,VIC
Hours of Operation: Mon-Sun 6:00 AM – 9:00 PM
Costumers Rating (221)
Words of our clients
Easily controlled rats at my home
I was facing a lot of pest issues including rats in my house the previous month. Someone suggested me this professional and reliable service team. They inspected the house properly and controlled all pests(rats, ants and spiders). The price is very comfortable.
100 % Satisfaction
The 711 Pest Control Company did a great job by targeting all the areas of our house. The services are really professional and we are 100% satisfied with their work. Thank you for this excellent work.