The most common problem people face these days is pests. Pests can cause a lot of problems such as diseases and infections, holes and damage and more. Pest control is one of the most important aspects you must take care of in order to keep yourself protected from diseases, damage and all other problems. If you spot pests in your house, make sure you act quickly and hire a professional as soon as possible. While hiring pest control you also need to take care of the prices provided by the company for pest control on average. Looking into this factor will help you in saving a lot of money. For this, it is important to understand the prices of pest control services. For detailed information on how much is pest control on average, read the blog till the very end.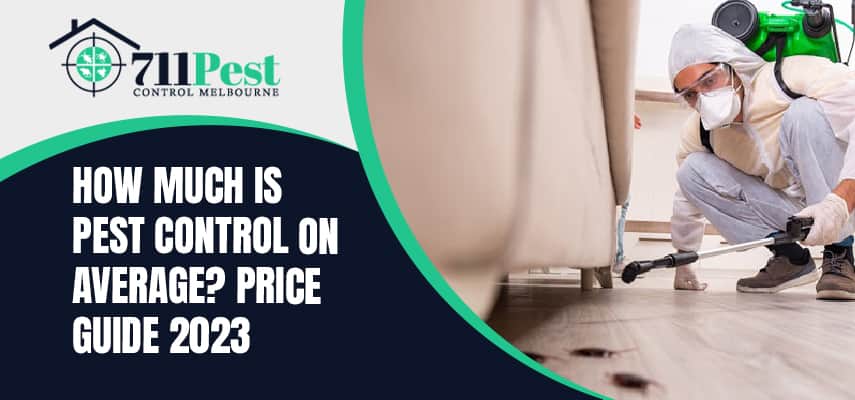 How Much is Pest Control On Average?
The prices for pest control services depend upon various factors. Some of the most common factors that affect the prices for pest control are the type of pests, the location you stay and the service you need for pest removal. Getting details about the pest control price on average will help you to get the right quote and hire the right company for pest control services. Read on for details.
What Are The Most Commonly Found Pests?
There are many types and species of pests that are found depending upon the location where you live. The most commonly found pests are cockroaches, ants, fleas, bees, wasps, bed bugs and spiders. And professionals use different ways to get rid of different kinds of pests in your house. Rodents and termites are also commonly found pests. These pests are usually found in every house but in case you live in places that are close to nature such as jungles there are chances you might find a variety of different pests as well.
How Much is Pest Control On Average Depending Upon The Type Of Pest-
Pests can be dangerous and removing them is important as soon as possible. The prices differ for all these pests. Some typical costs may be:
The pest control price on Average for fleas and tick removal is around $150 to $280.
The price for general pest control is around $250 to $300 and it might also depend on your location.
If you want exterior pest control service, the price will be around $350 to $400.
In case you want both exterior and interior pest control services you will have to pay around $450 to $750 on average.
Inspection Of The Pests- Other than the prices mentioned above, professionals also charge for the inspection of the pests. Generally, the price for an inspection on average is around $180. It might also vary depending on the pests, your location, your infestation and also the size of your house.
Birds, Animals And Rodent Removal Prices- Birds and animals are not usually found as these can be rare cases. Generally, they might be found stuck somewhere or might come into your house by mistake. But rodents are very commonly found pests. They might come into your house in search of food and shelter.
When it comes to birds, killing them is a crime and an inhumane way to remove them. Hiring professional pest control experts can help you to get rid of them using the right techniques. Birds and animal removal prices also depend on the company and the type of bird too.
Possums are scavengers and enter your house whenever they smell a dead animal such as a rat or mouse. Killing a possum is a crime and getting rid of them can be difficult. Hiring possums removal professionals is the best way to get rid of the possums and it might cost you around $200 to $250 on average. Depending upon the area and the possums the price might also increase.
Termite Control Prices- Having termites in your house can be one of the biggest issues you will face. They are small yet they can damage a lot of things in your house. Termites basically attack your furniture, especially made up of wood. Termite control prices can be as low as $300 and as high as $5000 depending upon various factors such as the infestation, the size of your house and also the location where you stay. Other than this companies also charge for termite inspection before treatment. The inspection charges can be around $100 to $250 depending on your location and the company you are choosing for termite removal. You can compare the prices and then choose a better company for termite removal from your house.
Why Do You Need Professional Help?
Sometimes the home-based methods might be effective and useful but there are some pests that cannot be removed using home-based methods and in this case, you will require professional pest control services. Professional pest control experts will help you in getting rid of all kinds of pests using their top-quality tools. They take care of all the safety and also use effective methods that are useful in removing pests and termites. Make sure you take a good survey before choosing a good pest control company.
Hire The Best Professionals Here
You read about How Much is Pest Control On Average. In case you are looking for the most trusted and cheap pest control company in Melbourne, you can hire professionals at 711 Pest Control. We are very well-trained and the most experienced pest control experts. The techniques used by our pest control teams are very unique and useful in getting rid of all kinds of pests. They take care of everything from pest inspection to pest control at very cheap prices. You can rely on them for any kind of pest-related problem anywhere in Melbourne. Check the price, check the authenticity, check what you want and hire the best pest control experts for your home. Read our blog to know pest control cost In Melbourne.
Home Pest Control Costs | DIY Pest Control vs Professional Pest Control