Pests can be irritating and cause a lot of problems for the environment and people in your house as well. They come in many sizes and shapes. Pests can cause a lot of damage to your house and other people as well. There are a lot of diseases associated with pests too. Some of the most common pests that are found in houses are cockroaches, ants, mice and flies. They can cause diseases such as food poisoning and many other problems too. Skin rashes and respiratory disorders are also commonly caused by pests. Not only this but pests can also damage your property too. Make sure you get rid of them as soon as possible. Hiring professionals can be the best option to get rid of the pests in your house. To get detailed information about how much pest control costs in Melbourne, read the blog carefully.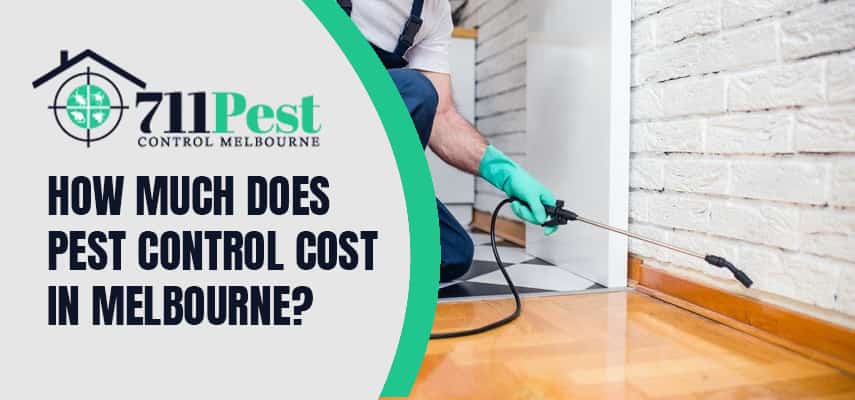 Pest Control Cost In Melbourne-
The average pest control and pest prevention cost in Melbourne ranges between $200 to $500.
$120-$150 to spray a 3 or 4-bedroom house internally and around the perimeter of the house
$150-$275 for interior flea and tick removal
$250-$300 for general pest control
$350-$450 for a thorough exterior pest control treatment (including termites)
$450-$750 for a full interior and exterior treatment
The prices for pest control might differ based on many factors such as the type of pests, the size of the infestation and the location of the infestation. These are some of the common factors that affect the cost of pest control services. Read on for more information.
Pest Control Process And Factors Affecting It
Assessment And Inspection Of The Pest Infestation- The first thing professionals do is assess the conditions and the pest infestation first to give their clients the exact quotation of the pest control services. This could be a factor that affects the price of pest control.
Size And Location Of The Property- Professionals also look after one thing which is the size and location of your property. Sometimes the location of your property might be far away from the main city due to which the professionals might charge you extra fuel charges. Another thing is the size of your property or the size of the infestation. If the size of your property is small, the price for pest control will be less. As the size increases, the price of pest control also increases. Before hiring professionals you must keep this in mind to avoid any extra charges.
Schedule- Once the professional pest controllers identify and assess the size of your property, you can schedule an appointment for pest control. Now, this is also one of the factors that affect pest control prices. If the schedule is made in an emergency then prices can be higher than usual. To hire any pest control company it is important to book them in advance and schedule the service to avoid high prices.
Type Of Pests And Pest Control Services- Once the schedule is booked, you can rely on pest control experts to provide the best service. If the infestation is more in size and the pests are more in number the prices will again vary. Depending upon the pests also the prices might vary. There are also many pest control services such as ant removal, rodent removal or dead animal removal and they all have different prices.
Common House Pests & Their Control Costs
Household pests come in various shapes and sizes, ranging from tiny bed bugs and destructive termites to furry possums and the widely despised cockroaches. In Australia, you are likely to encounter these ten common household pests. This article provides information on each pest and the approximate cost of pest control for each.
Ants: Ants typically infest food sources and can be found in kitchens, pantries, as well as nesting under paving, in roofing, and within walls. The cost of ant pest control ranges from $200 to $250.
Bed Bugs: Bed bugs feed on human blood while people sleep, leaving behind bites and welts that can cause allergic reactions and disrupt sleep. Chemical powders and fumigation are two treatment methods for bed bugs, with prices ranging from $120 to $700.
Bees: Bees and wasps pose a threat when they swarm, especially if individuals are allergic to their stings. Environmentally friendly hive removal is recommended and can cost between $100 and $550, depending on the complexity of the task.
Cockroaches: Cockroaches can quickly infest an entire property, especially if there is an ample food source. Treatment methods for cockroaches include traps and chemical sprays, with costs ranging from $215 to $315.
Rodents: Rodents, such as rats and mice, not only carry diseases but can also introduce fleas and lice into your home and cause structural damage by gnawing. The average cost for rodent removal is $250 to $350.
Possums: Possums can cause damage to ceilings and roofing, and their nocturnal activities can disrupt your sleep. Controlling possums involves their removal and blocking entry points to prevent further intrusions. The cost typically falls between $200 and $250.
Spiders: While most spiders are harmless, some species like the redback and funnel web spiders are venomous and pose serious concerns. Spider removal costs range from $280 to $550.
Importance Of Hiring Professional Pest Control Experts-
They Help In Saving Money And Time- Everyone is so busy these days that they don't have time for any sort of pest control. Professionals can help you in making your house pest free. They will make your job easy and do it quickly, which will help you in saving both money and time.
They Have The Best Equipment- When it comes to pest control services, it is important to hire professionals to make sure you can get rid of the pests with the help of the best tools. When it comes to getting rid of the pests, you will need good quality tools which are only available with the experts.
They Can Remove All Pests- Pest control experts have all the knowledge that helps in getting rid of all kinds of pests from your house. They use techniques that help in getting rid of all kinds of pests in the house.
Where Can You Find The Best Melbourne Pest Control Services?
If you are living in Melbourne, the best company to hire for pest control services is 711 Pest Control. We provide all kinds of pest control services at reasonable prices. We have the best tools that are useful in removing all kinds of pests. We also provide discounts and offers to our clients. One of the best things about our pest control experts is that they are always available and offer 24/7 emergency pest control services. However, you must consider all factors discussed above before hiring any pest control company.