Effective bee and wasp removal in Melbourne
Our wasp removal Melbourne experts offers fast treatments for bees and wasps. Moreover, we protect your family with our safe bee removal solutions. 24 x 7 Pest Control Melbourne has friendly professionals for bee removals. Thus, with our effective service, we make your property wasp-free. Our experts provide service in every area of Melbourne. Moreover, we also provide wasp treatment in every property of Melbourne. Thus, for affordable wasp service, feel free to call us.
How can you treat the wasp sting?
While bitten by a wasp, don't panic. Firstly, you should treat the wasp stings by using a card. Scratch the infected area with the card. Moreover, clean the bitten area with hot water & soap. Additionally, you can also use an ice pack for a wasp sting. Another way to treat it is by applying lemon juice to it. If this too can't help, consult a medical care expert.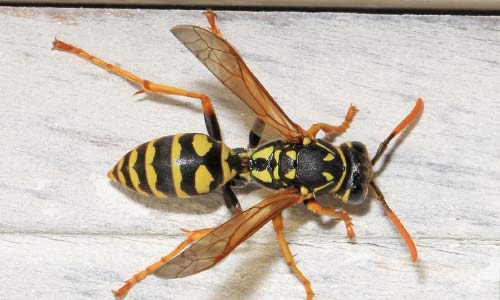 Get To Us For Having The Safest and Premium Services for Bee and Wasp Removal Melbourne
Welcome to the most liable company where you can hire Honest Wasp Controllers. We provide Bee and Wasp Removal services for the best outcomes. Our professionals have the best techniques for removing wasp and bee infestations from your place. We take care of all needed safety measurements while treating the wasp infestation. Our customers are always free to hire our services at any time when they need to book an appointment for Bee and Wasp Removal Melbourne. We have been organising the team for more than twenty years and provide quality services to the customers.
Our company has all the required material that is used in wasp treatment. Bees or Wasps are the most attracted pests to some colours like blue, purple and yellow flowers. If you notice that wasp infestation is invading your home, be quick to hire our services. Our pest control in Melbourne will be the best option you can ever get in the pest control industry. We are extraordinary in arranging all things for moving away wasps and bees.
Our Wide Range Of Pest Control Services :-
We Value The Quality of Services That We Provide For Different Types of Bees and Wasps
Our staff is working to solve your problems related to wasp infestation. We are the best Wasp Pest Controllers and provide affordable services and can be available for any type of Wasp Removal Treatment. We have studied and got complete information on what attracts the wasp most and what can remove the wasp safely.
Leafcutter Bee And Hive Removal
Our professionals are verified to give you pest control services for Leafcutter Bee and Hive Removal. Our services are effective and can be useful when you want to keep the garden safe. Leafcutter bees like to feed on the green leaves and can be an irritating pest for you.
Ground Bee And Hive Removal
Our professionals are also experts in removing the ground bee and hive removal. When we work with you, we consider all safety tips and wear protective gloves for providing you with safe services. We use hot solutions with effective pesticides to remove ground bees.
Stingless bees like to live in damp and dark areas, they can make small holes by feeding on mud or wood. If you are facing the issues of having stingless bees, call us for the Stingless Bees Removal Services.
Bear bees have a golden and black colour lining in their bodies. They usually seek sweet things and can sting the human skin. For this type of wasp removal service, our professionals are always at your doorstep to remove the bear bees.
Asian Giant Wasps are known to be dangerous at times. Their stings can be painful as well as can be the reason for potentially fatal. If you spot an Asian Giant Hornet, call us at 711 Pest Control Melbourne.
German Wasps usually like to make their hive inside the eaves or some other dark place that is hidden from view. If you notice a single german wasp, call for Wasp Pest Control Services. Because a single wasp is an indication of a large community of wasps hidden in a hive.
Red paper wasp queens can appear from their winter shelters. They are known for establishing their hives to start laying eggs before long. So, if you find them, contact us for the Red Paper Wasp Control Services.
Australian Hornet Wasp Removal
Like other beehives, Australian hornets also make their hives with their saliva and seem very distinctive, as it's made from wood pulp. To get rid of this kind of wasp, you can also contact us for Australian Hornet, Bee and Wasp Removal Melbourne Services.
711 Pest Control Melbourne Is The Right Place To Get The Best Solution For Bee and Wasp Removal Melbourne
Our process for Bee and Wasp Removal Melbourne is simple as we follow common steps. If you need some extra precautions from the wasp attack, we are capable of adding some more effective treatments. Well, you can see here a simple procedure of controlling bee and wasp infestation.
Inspection: We manage an inspection to find out hives and bees' existing area in your home.
Apply Wasp Pesticides: By using effective pesticides, we remove them.
Hive Removal; We also remove hives if we detect a hive in your home.
Clean Up Mess Of Hives: We are also liable to clean up the mess of the hive. So, don't worry about the services as we follow all cleaning instructions during the Wasp Treatment.
Note: Our Wasp Removal Specialists recommend staying away during the treatment or wearing protective gloves. We and our team also wear protective clothes and gloves to keep ourselves from the wasp attack.
Our Company Has Been The Popular In The Industry Because Our Team Is Providing Bee and Wasp Removal Melbourne Services with Full Of Dedication
Our customers must know the specialities of our company, 711 Pest Control Melbourne. We provide lots of benefits to our customers who have been having services for years. Also, new customers can get discounts on their first orders. You can see the benefits like:-
You can get Affordable Bee and Wasp Removal Melbourne services.
We service our customers on working days, public holidays and weekends as well. It means we are 711/365 days available to provide the Wasp Control Services.
Our Wasp Controllers are fully certified, verified and professional to organize the wasp removal activities in Melbourne.
We can be available on the same day if you hire us for Same Day Bee and Wasp Removal Melbourne.
We follow all safety tips during the treatments and use all the latest techniques for removing the wasps and hives.
Our Experts Serve People Of Melbourne And Nearby Areas With the Most Demanded Services of Bee Control Melbourne
Our company, 711 Pest Control Melbourne is providing services in all areas that are under the city of Melbourne. Our team also works in nearby locations such as:- Grenville, Alexandra, Dandenong, Mooroolbark, Lilydale and more areas. We cover all commercial and residential places with our Bee and Wasp Removal Melbourne services. We have proper schedules and plans for providing you with the safest services for bee control and wasp nest removal in Melbourne. So, hurry up and hire our service providers to get the services now!
Bee And Wasp Removal Melbourne
Call us on 03 4505 2416 Bee And Wasp Removal Melbourne
Location: Melbourne, Victoria, 3000, Australia