What Do You Need To Know About End-of-Lease Pest Control?
Real estate owners and landlords should both consider carefully an end-of-lease pest control treatment. You must know these things whether you are a landlord or tenant.
Why do tenants need to do the pest control service?
Why do landlords need to do the pest control service?
Know when you should do the pest control service.
Typical home pests that are manageable either with specific or all-around pest control measures.
Ways to get ready for a pest control treatment at the end of your lease.
Identifying features in a pest control service.
Why Is Pest Control Service Essential For Tenants At The End Of A Lease?
When your contract ends if you reside in a rented home, you may be required to schedule a pest control service. This could be a requirement of your lease with the owner of the property.
It's crucial to review your rental agreement to determine who is responsible for pest control: the tenant or the landlord.
Depending on the nature of the pest-related problem you leave behind, if it's your responsibility as a renter and you don't take care of it, you run the danger of losing a part or all of your lease bond. A pricey rental panel case with your landlord is another possibility.
If you've had dogs or cats, a flea treatment near the end of the lease may be very crucial. To ensure that your pets don't leave any pests (or flea eggs) behind, many rental agreements will include a lease pest demand for pest control treatment.
It's not enough to simply get rid of such pests. Additionally, you must get away from flea eggs, which would otherwise stay dormant for weeks before hatching.
Why Is Pest Control Service Essential For Landlords At The End Of A Lease?
Make your residence secure so that your upcoming tenant can rent it. It is a safety and health requirement that landlords furnish a residence that is safe for a tenant to lease at the beginning of their tenancy. This involves making sure that there are no pests or vermin on the property because they can spread disease.
Increase the market value of your property. If your prospective tenants discover any signs of pest activity while inspecting your house, they won't be likely to move before the issue is resolved!
Prevent termites from causing significant structural damage to your property.
Know When It Is The Right Time To Do The End-Of-Lease Pest Control Treatment!
The ideal time to do it is right after the building has received its end-of-lease clean. The last item you should complete before moving out if you're a tenant and are responsible for it is your pest control treatment.
Your homeowner will receive an inspection report once you vacate the property. This report will probably reveal any pest control problems.
If you're a landlord and you're in charge of pest management, you can schedule the procedure after the thorough cleaning has been completed and after the tenants have left.
Which Typical Household Pests Are Treatable And Manageable?
Fleas, Cockroaches, Spiders, Mosquitoes And Flies are treatable and manageable. Certain landlords may request fumigation if you've had dogs or cats in the past because different sorts of pests require specialized treatments. Decide on a particular treatment if you're dealing with a particular bug issue.
You can schedule a basic pest control service to safeguard the home against typical household pests if you don't have a specific issue.
What Features Ought Pest Control Services Have?
When selecting a pest treatment service, make sure that:
They are certified, authorized, and hire professionals.
Offers environmentally healthy and safe solutions.
They will give you a documented Certification of Pest Treatment that you can give to the property agent.
How Can Our Pest Control Service Help You?
Before offering a suitable and affordable pest management solution, we'll spend some time listening to any wants or concerns. All our pest management systems include:
It will be done by our staff of certified, authorised, and skilled teams.
We will employ secure and eco-friendly chemicals, fungicides, and techniques.
We will give a pest control proof certificate. This treatment and documents will make sure that you uphold your laws and regulations whether you're a landowner or a renter.
Get a free quote from us immediately for the pest management service you'll need at the end of your lease!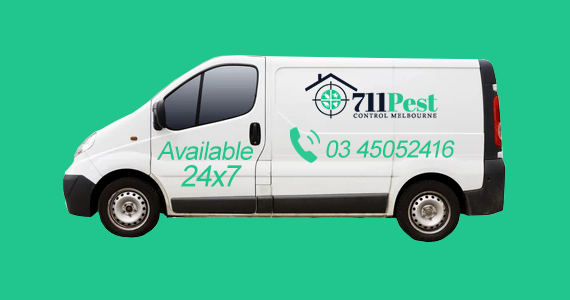 711 Pest Control Melbourne
Location:-
376-390 Collins Street,Melbourne 3000,VIC
Hours of Operation: Mon-Sun 6:00 AM – 9:00 PM
Costumers Rating (221)
Words of our clients
Easily controlled rats at my home
I was facing a lot of pest issues including rats in my house the previous month. Someone suggested me this professional and reliable service team. They inspected the house properly and controlled all pests(rats, ants and spiders). The price is very comfortable.
100 % Satisfaction
The 711 Pest Control Company did a great job by targeting all the areas of our house. The services are really professional and we are 100% satisfied with their work. Thank you for this excellent work.