Get The Most Affordable Services For Exterminating Silverfish In Melbourne
Silverfish can cause a nuisance in the house as they damage the property. They chew on papers, clothes, upholstery, books, etc. Hence, they feed on various things in the house. These are the nocturnal animals that reside in damp and moist areas. In such cases, using a dehumidifier is ideal; as it can reduce the moisture content that is present in the air. This helps in limiting the silverfish's survival. They cannot crawl, If they fall into sinks or bathtubs, they can't get out of it. To perform chemical control methods, you need the support of professionals. Our Silverfish Control Melbourne team can help you with the same; as we are very well aware of all the latest techniques that we follow.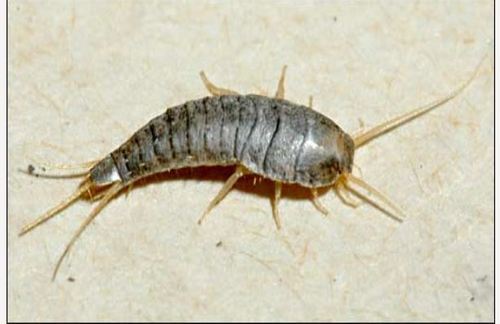 If there are holes in your water pipe, silverfish find their way through it and will reach the sinks and drains. They leave yellow stains on the regions they affect. Generally, they enter your house through cracks and crevices on the ground level. Silverfishes neither cause diseases nor carry any germs. But can destroy various things as mentioned earlier. Therefore, you need professional assistance, contact 711 Pest Control Melbourne. We have highly advanced equipment and the latest technologies for exterminating the silverfishes.
In case you need to get rid of silverfishes, you need to book an appointment in advance. For that, you'll have to call us at 711 Pest Control Melbourne immediately. Later, our team will contact you soon for further details.
How Do You Spot a Silverfish?
A greyish or metallic colour that is glossy.
Size ranges from 10 to 12 mm in length.
They lack wings, have six legs, and two long antennae.
They taper more toward the tip, giving them a tail-like appearance.
They have one thin body with three long tentacles at the back.
Indications of a Silverfish Outbreak
Our Silverfish Control Melbourne experts have enlisted a few symptoms of pests below. According to 24 x 7 Pest Control Melbourne's silverfish control specialists, these are the signs of a silverfish problem.
Detecting a Living Specimen:
Despite the fact that this seems clear, most individuals ignore the problem even when they see a live bug moving around. Most folks don't realize that discovering one suggests there are lots more stashed away.
There are feces everywhere there is an outbreak. Keep a close eye out for excrement while having an audit of your house or company. Their black spherical feces is plainly visible where they consume, around paper or textile articles.
Because these insects mostly devour starchy waste paper, cartons, cardboard boxes, albums, backdrops, and so on, it is simple to detect an infestation while doing a home or company premise check.
Our Services:-
We Provide A Wide Variety Of Services Under One Roof!
Silverfishes might not be harmful to you but can cause some serious damage to the property. They reside in the pipes and drains as it is damp and moist. To get rid of these insects, consider hiring the Silverfish Control Melbourne team. Our experts can help you in the process of extermination where we include various methods. The methods that we use are highly professional and efficient. Our team will help you in assisting the termination of the silverfish infestation. We provide a wide variety of services, here are the few:
Extermination Of Common Silverfish: this type of silverfish is quite common, hence the name "common silverfish". This species is the primary invading silverfish that is present in our households. To get rid of these silverfishes, you can hire the Silverfish Control Melbourne team. Therefore, book an appointment to get rid of those pestering insects.
Gray Silverfish Removal Services: these are found in warm places inside your house. Usually reside in the oven, furnaces, fireplace, clothes dryer, bathroom vents, etc. As they can cause serious damage to your property, getting rid of these insects is the only option. Therefore, our team can help in removing the silverfishes from your house.
Firebrat Silverfish Removal Services: In this type of service, we help you in getting rid of the firebrat silverfishes. These are the wingless insects, with flat bodies. They feed on starches, such as cereal, flour, wallpapers, envelopes, etc. When the infestation increases rapidly, they tend to create a mess by destroying things. They can multiply in a hurry, thus, exterminating at the initial stages is necessary.
Bristletail Silverfish Removal Services: these are also known as " fish moths". These are primitive, wingless insects. They feed on dust, soap residues, paper, etc. The nocturnal insects feed on the starchy clothing; in order to extract the carbohydrates present within. Silverfish Control Melbourne team will aid in getting rid of the silverfish infestation.
For availing of our services, you need to book an appointment in advance. You can also get a free quote for the services we provide.
The Process Of Silverfish Extermination Involves Efficient And Latest Strategies
Silverfish Control Melbourne team is very well known for providing their services in and around Melbourne. Therefore, our clients rely on us for all kinds of pest extermination procedures. Infestations at the initial stages might not cause any damage to your property; but if you ignore it, that can cause huge damage. To control the spread and make your house free from infestation; our experts follow these steps:
First things first, once you book an appointment, our team performs a thorough inspection.
Once we finish the inspection at the site; our team decides on how to treat the infestation.
Later, we lay jar traps. For this, some jars, masking tape and bread pieces are used.
Also, most flies and insects react to essential oils, as they are not fond of these.
After finishing all the above steps, we sprinkle diatomaceous earth powder.
Leave it for a while, and should later clean the area of treatment for eliminating any residues.
Lastly, we sanitise your property and make it silverfish-free.
Our Silverfish Control Melbourne team is unique! Here Is Why?
Our team provides the most efficient services; they will make sure that the problem is completely solved. Silverfish Control Melbourne team provides the best services in Melbourne. People rely on our services as we provide different kinds of pest control services. To get rid of the infestation, we work tirelessly. 711 Pest Control Melbourne is quite famous for the professional services we provide. The features that make us different from others are:
Providing top-notch quality services.
The products that we use for the extermination are eco-friendly and organic.
We use the most effective and latest technologies.
We provide same-day services and emergency services as well.
All the services that we provide are highly affordable, economic and budget-friendly.
Call us in all areas of Melbourne for effective silverfish control services
Our company has been in business for a long time, solving hundreds of cases daily. As 711 Pest Control Melbourne is locally-based, we provide services in all the regions of Melbourne. You can book an appointment via call or on our website. Once you book an appointment our team will contact you; where you can address your issue. The customer care team is available 24*7, therefore, the booking is hassle-free. We covered the entire area of Melbourne like:- Preston, Carlton, Ringwood North, Brookfield, Croydon and many more locations.
Silverfish Control Melbourne
Call us on 03 4505 2416 Silverfish Control Melbourne
Location: Melbourne, Victoria, 3000, Australia