Reliable And Affordable Pest Control Services in Melbourne's Western Suburbs
Is your home overrun with pest problems? Solve it today with 711 Pest Control! With a team of certified and trained pest control agents, we serve both commercial establishments and residential societies, assuring a pest-free property. Whether your home is dealing with a rodent infestation, possum problems, or insect issues, our effective and tailor-fit pest control Western Suburbs services can control all situations. We not only help eradicate pesky pests from your home but also employ preventive measures to prevent their re-infestation. Schedule an appointment with us today to get rid of all the pest issues you are dealing with.
Pest Control & Removal Treatment
Using personalised treatment approaches, we specialise in controlling and removing a wide range of pests for both commercial and residential purposes. Common pests that keep creating a nuisance include spiders, ants, roaches, possums, bees and wasps. They are skillfully handled by our team members. With years of expertise, the latest equipment, and eco-safe pest-repellent solutions, we make sure to keep your home pest-free, limiting all the chances and possibilities of future infestation with our comprehensive pest control Western Suburbs solutions. In case, you need emergency pest control in Western Suburbs, be quick to call and avail of our services. We ensure to offer you a best-fit pest control and removal solution with fast action and long-term results.
Rodent Control Treatment -Do you have a rodent infestation at your home or office? Worry not as we provide the most effective pest control treatment that eradicates rodents, rats, and mice pretty instantly, obstructing their coming back. Using environmentally-friendly tactics, including baits and traps, we remove the disease-spreading pests, without contaminating the indoor air quality. After offering our professional treatment, we equip you with a free follow-up after 10 to 14 days to ensure the effectiveness of our rodent control solutions. We also remove the carcass of dead pests, disinfecting your premises. Moreover, we also help in making your premises rodent-proof.
Spray Treatment – Our pest control Western Suburbs services include a 3-in-1 spray treatment that helps in removing ants, roaches, and spiders and come with a 6-month warranty. Our professionals treat both the interior and exterior parts of your home, including the cornices, letter boxes, door and window frames, skirting, vents, and so on! All our pest control and removal spray products are odour-free and stain-free.
Other Available Treatments 711 Pest Control is committed to offering a complete pest control solution that is safe for nature and offers effective results. We control a wide range of pests like Fleas, Mites, Bedbugs, Carpet Beetles, Indian Meal Moths, Rice Moths, Cloth Moths, Flies, Mosquitoes, Wasps, Silverfishes and Birds.
Our Extensive Pest Control Treatments
We never delay our services when you call us for emergency needs. We respond quickly and arrange for your services ASAP. It includes Ants, Spiders, Cockroaches, Bedbugs, Beetles, Moths, Fleas, Mites, Rats, Mice, Flies, Mosquitoes, and Silverfishes.
Services Offered By 711 Pest Control Team
Our pest control and treatment team gives everyone that approaches us for availing pest control services a word of taking 711 slot booking. In addition to this, we are available for a variety of pest control services. Some of them are given below:
Why Choose Us For Pest Control Services?
We offer pest removal services for many pests.
Depending on the type of pest, our experts will curate the services accordingly. This way, we will be able to achieve the best results and help you in eliminating pests.
We are a committed team of pest controllers offering solutions across the city and its suburbs.
With several years of experience, we offer the most reliable solutions for a wide range of pests.
Our well-trained professionals are capable of removing possums, ants, spiders and rodents no matter how stubborn or old they are.
We help pest-proof homes and businesses.
We are available for emergency pest control services.
Serving all services at affordable prices.
A proud member of the AEPMA.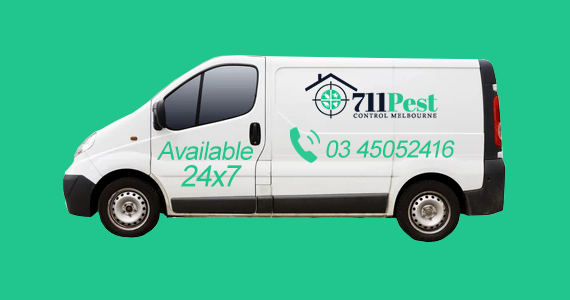 711 Pest Control Melbourne
Location:-
376-390 Collins Street,Melbourne 3000,VIC
Hours of Operation: Mon-Sun 6:00 AM – 9:00 PM
Costumers Rating (221)
Melbourne Western Suburb Areas We Serve